When it comes to your Safety, make sure you are taking the right steps.

It's not just about windshields. Our cars, trucks and SUVs have much more glass on them than they used to. And when you're booking an appointment to have that glass repaired or replaced, it's useful to have the name of the piece you need us to fix. This graphic shows some common names for each piece of glass on a vehicle.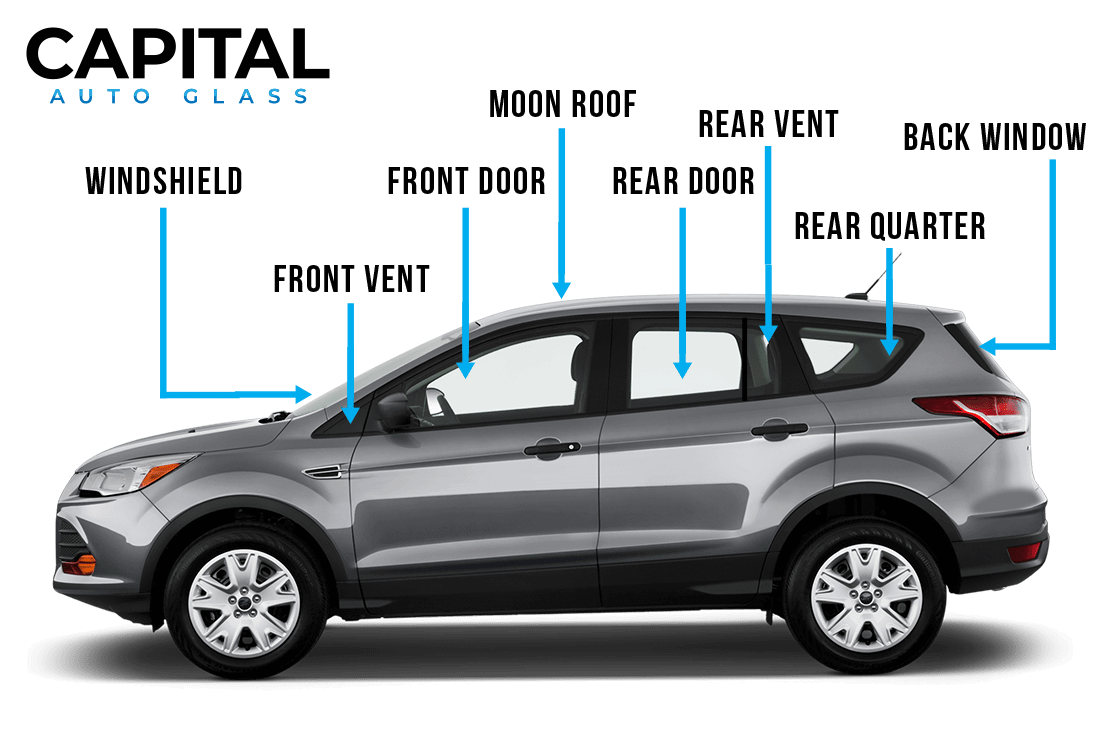 Now that you know the correct language for each piece of glass in your vehicle, you can schedule your appointment with Capital Auto Glass. Or, just bring your vehicle in and we'll give you a
100% free estimate
.
Reminder: When you refer to a "side" of your vehicle, imagine yourself in the driver's seat. The driver side windows are on the left side, and the passenger side windows are on the right side.
Auto Glass Repair FAQ
How long does it take to repair a stone chip?
Most stone chip repairs can be performed in 30 minutes or less. If you have multiple chips, it may take longer. You can also take advantage of our free shuttle service 6 days a week.
I have insurance glass coverage. What will a stone chip cost?
Some insurance companies waive your glass deductible and pay for chip repairs with no cost to you.  Bring in your insurance policy and we will verify if you receive a chip repair at no cost to you.
Will I be able to see the chip after it's repaired?
Yes. Once repaired, most chips will be less noticeable after repair, but you will most likely still be able to see the outline. Some chips repairs look better than others. The sooner a chip is repaired after the damage has occurred improves the chances of a cleaner repair, but other factors like the size of the impact, how much glass is missing and what area of the windshield is damaged will affect the likelihood of a satisfactory repair.
Do I need to replace my windshield or can it be repaired?
As a rough guideline if your stone chip is larger than a quarter your windshield may need to be replaced. Changes in air pressure, temperature, and even regular driving can cause your chips to increase in size. So, book a glass repair appointment as soon as possible.
Is there a chance of my windshield breaking or getting worse while being repaired?
Yes, but it is rare. The glass is in a fragile state and is placed under some stress during the repair. This is more likely to happen if the break is close to the edge of the glass.  If we notice that the damage is getting worse we will remove our equipment immediately in an attempt to remove any pressure and to stop it from continuing to spread. A windshield replacement may be required if this occurs.
What is the driver's "critical viewing area"?
The driver's critical viewing area is a section of the windshield directly in front of the driver when they are sitting in the vehicle facing forward. Chip repairs are not recommended in this area of the windshield since the break will still be visible, and could be distracting to the driver.