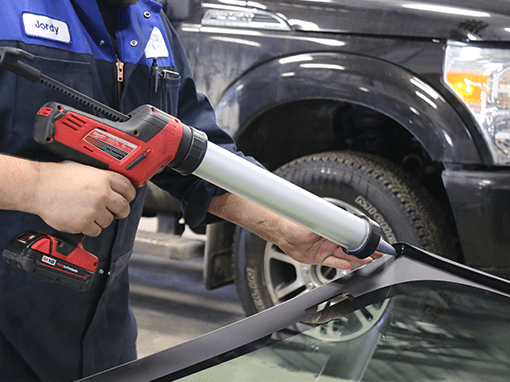 Welcome to Capital Auto Glass, a leading service centre specializing in windshield chip repairs and replacements. We offer the most comprehensive windshield repairs and replacements that are top quality and fairly priced.
Our glass repairs are done with precision and often take less than 30 minutes to complete. When a quality repair is done to a windshield, it will restore the structural integrity and help to prevent damage from spreading.
SGI Accredited
Capital Auto Glass is an affordable SGI accredited solution. Our Regina windshield repair centre offers great value and investment to help prevent further damage or receive a replacement at an exceptional price.
If you have comprehensive coverage and choose to have your existing windshield repaired rather than replaced, SGI will likely waive your deductible! This means no additional cost for you. Our professional windshield repair specialists will do the job right the first time to help you get back on the road faster.
Book an Appointment. It's Easy.
Please use the calendars below to book your vehicle's appointment.
We require a minimum 1 business day advance notice to prepare for glass replacements. Looking to book your appointment sooner? Give us a call at 306-206-0837
"Thanks for good service from your team. 
I had my 2014 - F150 in for a windshield replacement and oil change and I was pleasantly surprised to get a phone call; both were done by 10:30! Glass shop crew changed my oil while the urethane was curing. People working together, smarter. As a result, had by truck back well before noon and instead of getting to Capital late in the day it allowed me to get home earlier to pay forward another deed BTW, appreciated how clean and orderly the shops were, speaks to safety as well."
Had two stone chips repaired in two different vehicles. Service was fast and very friendly. They did a great job. Can't even see where the chip was.
All of the staff was amazing. They were very helpful right from the first phone call to the completion of the install. Would definitely go there again!
"I would like to thank you for looking after getting my Explorer in for service. It was ready for pickup mid morning Saturday. I also would like to let you know that Kayla and your team did a great job on getting the repair done on short notice. Thanks for the Great Service by you and your team."
Capital Auto Glass
at Capital Ford
1300 N Vanstone Street, Regina
Call Us
306-206-0837
Visit Us
Monday to Saturday
7:30 to 5:30pm