Aquapel Glass Treatment
In the simplest terms, Aquapel Glass Treatment helps you see through your windshield more clearly. First developed for the aviation industry, Aquapel creates a chemical bond with the glass to increase water repellency, reduce glare, and prevent water spots. When water hits your windshield, it instantly beads and runs off. You can even clear accumulated ice, snow, and bugs much easier. Aquapel has been proven to last up to six times longer than silicone-based compounds. Additionally, Aquapel Glass Treatment remains highly effective after months of normal use, including heavy rain and snow, car washing, glass cleaning and salt spray. Whenever it's time to renew your long-lasting Aquapel Glass Treatment, its performance can be restored in minutes. Once you've driven with Aquapel, you won't want to drive without it!
Advantages
Increased visibility in adverse weather conditions
Reduces glare in the rain, especially at night
Improves the effectiveness of wiper blades
Lasts six times longer than competing products
Quick application time, at any temperature
When you book an appointment with us for a chip repair or windshield replacement, just check the box indicating you'd like an Aquapel Glass Treatment.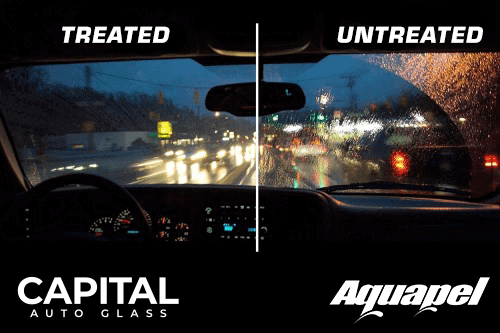 Get Aquapel at your next appointment for $29.95 + tax